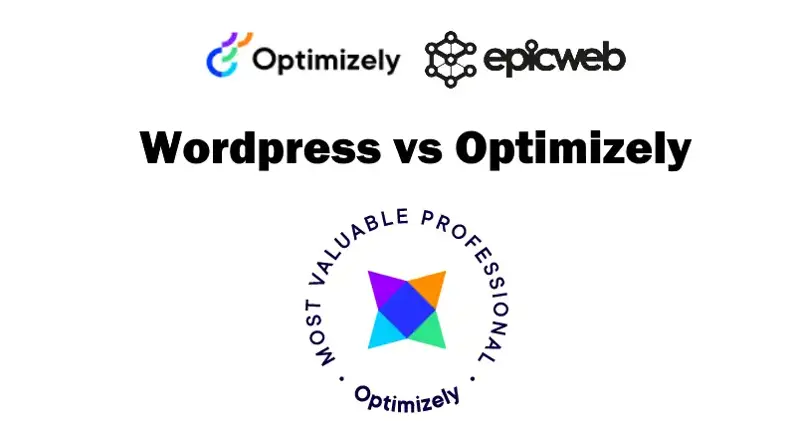 Why Optimizely Content Cloud Outperforms Wordpress
If you're running a website or a blog, chances are you've used WordPress. WordPress is a popular content management system that's been around for years, and it's become the go-to choice for many webmasters. However, there's a new kid on the block that's been making waves in the industry. It's called Optimizely Content Cloud, and it's quickly becoming the preferred choice for many website owners.
In this blog post, we'll explore why you should replace WordPress with Optimizely Content Cloud.
Ease of Use
One of the biggest advantages of Optimizely Content Cloud is its ease of use. Unlike WordPress, which can be complex and difficult to navigate, Optimizely Content Cloud is simple and intuitive. The platform is designed to be user-friendly, even for those with little to no technical experience. With Optimizely Content Cloud, you can easily create, edit, and publish content, without needing to know how to code.
Personalization
Another advantage of Optimizely Content Cloud is its personalization features. With Optimizely Content Cloud, you can create personalized content for your audience based on their behavior, interests, and preferences. This means you can deliver a more targeted and engaging experience for your users, which can help increase engagement and conversions.
Integration
Optimizely Content Cloud integrates seamlessly with other tools and platforms, including your existing website. This means you can easily migrate your content from WordPress to Optimizely Content Cloud, without needing to start from scratch. Additionally, Optimizely Content Cloud integrates with other tools like analytics platforms and marketing automation tools, which can help streamline your marketing efforts.
Security
WordPress is known for its vulnerabilities and susceptibility to hacking. Optimizely Content Cloud, on the other hand, is a more secure platform, with built-in security features to help protect your site from cyber threats. This can give you peace of mind knowing that your content and data are safe and secure.
Modern tech stack
Optimizely is build with .NET Core. By choosing .NET Core for your web development needs, you can create applications that are highly performant and scalable, while also being secure and easily deployable. With its advanced features, such as cross-platform compatibility and modular design, .NET Core can help you build modern web applications that can run on a variety of operating systems and devices. Additionally, the platform's open-source nature and large community mean that it is constantly evolving and improving, ensuring that your applications will remain up-to-date and competitive.
Scalability
Finally, Optimizely Content Cloud is a scalable platform that can grow with your business. Whether you're a small business owner or a large enterprise, Optimizely Content Cloud can accommodate your needs. The platform can handle large volumes of traffic, and its modular architecture allows you to add new features and functionality as your business grows.
Community
world.optimizely.com is a community that brings together a diverse group of digital experience professionals, including developers, marketers, and product managers, to share knowledge, best practices, and resources related to experimentation and personalization. With over 15,000 members and counting, the Optimizely Community is a vast network of professionals with a wealth of experience and knowledge. Members can ask questions, get advice, and share ideas with others who have faced similar challenges.
In conclusion, while WordPress is a popular platform, it's not always the best choice for every website owner. If you're looking for a more user-friendly, personalized, integrated, secure, and scalable platform, you should consider replacing WordPress with Optimizely Content Cloud. With its advanced features and capabilities, Optimizely Content Cloud can help take your website or blog to the next level.
Top 10, why you should move away from Wordpress:
Security risks: WordPress is a popular platform, which makes it a target for hackers. If you don't keep your WordPress site updated with the latest security patches, you could be vulnerable to attacks.

Tech stack: One criticism of WordPress is that it's tech stack is not very modern or cutting-edge. While PHP is a widely used language for web development, it is considered by some to be outdated and less performant than newer languages like C# .net core.

Plugin compatibility issues: WordPress plugins are created by third-party developers, and not all of them work well together. Installing too many plugins or incompatible plugins can cause your site to break.

Site speed: WordPress sites can be slow to load, especially if you have a lot of plugins or a poorly optimized theme.

Cost: While WordPress is free to use, you may need to pay for hosting, a domain name, and premium plugins or themes.

Limited flexibility: WordPress sites are built on a certain framework (point 2), which can limit your ability to customize your site in certain ways.

Maintenance: WordPress sites require ongoing maintenance, including updates, backups, and security checks.

Support: While WordPress has a large community of users, it can be difficult to find reliable support when you need it.

SEO challenges: WordPress sites can face challenges with search engine optimization (SEO), especially if they are not properly optimized.

Limited scalability: WordPress may not be the best choice for large or complex websites, as it can become difficult to manage and maintain as your site grows.
How do I move my Wordpress site to Optimizely Content Cloud?
Optimizely works closely with implementation partners to help clients get the most out of the platform and achieve their digital experience goals. Here are some of the ways that Optimizely collaborates with its implementation partners:
Training and certification: Optimizely provides training and certification programs to help its partners become experts in the platform. This ensures that partners have the knowledge and skills necessary to deliver high-quality implementation and support services to clients.

Joint project planning and execution: Optimizely and its partners work together to plan and execute projects, including implementation, testing, and ongoing optimization. This collaborative approach helps to ensure that projects are completed on time and on budget, and that clients get the best results possible.

Technical support and guidance: Implementation partners have access to technical support and guidance from Optimizely's experts. This helps partners to troubleshoot issues, optimize campaigns, and ensure that clients are getting the best possible outcomes from the platform.

Joint marketing and business development: Optimizely and its implementation partners work together to market and promote the platform to potential clients. This includes joint marketing campaigns, events, and other initiatives that help to raise awareness and generate leads.
Overall, Optimizely's implementation partners are an important part of the company's ecosystem, providing valuable expertise, services, and support to clients. By working closely with its partners, Optimizely can ensure that clients get the best possible experience with the platform, and that they are able to achieve their digital experience goals.
To find an implementation partner for Optimizely, you can visit the Optimizely Partner page on the company's website. Here are the steps to follow:
Scroll down to the "Find a Solution Partner" section
Select your Country from the dropdown menu
Use the search filters to narrow down your options based on your specific needs and preferences
Alternatively, you can contact Optimizely's sales team directly and they can help connect you with a partner that best fits your needs.
Final alternative, you can use this form and contact Epicweb directly => epicweb.optimizely.blog
Epicweb offers and provides a blog/site accelerator
Epicweb provides a cutting-edge blog/site accelerator. The team of senior developers has invested years into developing a lightning-fast solution that runs on .NET 6/7 and Optimizely Content Cloud. With all the features you need to launch your site or corporate blog, our state-of-the-art solution is not only reliable and efficient but also optimized for speed. Get started with epicweb.optimizely.blog today and experience the power of modern technology.

Check out the complete list of features available

Read the FAQ
Fill in the form on epicweb.optimizely.blog, get a quote, get access to source code, deploy it to Azure.